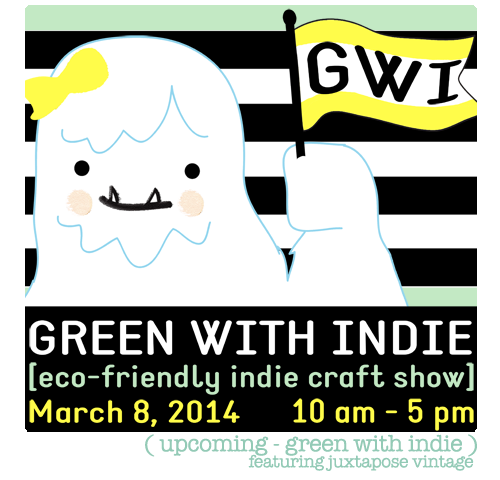 One of the surefire ways to tell that Spring is on its way is the arrival of the Green With Indie Craft Show. Each March, this eco-friendly market, presented by the St. Louis Craft Mafia, descends on Grant's Gym at Webster University, showcasing a wide variety of vendors from all around the Midwest region.
What sets Green With Indie apart from other craft shows is that they were the first in the St. Louis area to make a focus on being eco-friendly, sourcing only the finest sustainable vendors for the show. Whether you're a handmade vendor re-purposing materials, or a vintage seller ensuring that history isn't tossed in a dumpster, GWI finds the best and brings them together for this not-quite-spring show.
This year is the second year that my little vintage baby, Juxtapose Vintage, has had the honor of participating in this truly amazing event. Come see us on Saturday, March 8th from 10a-5p to browse all of our newest finds. The past couple weeks we've been putting in a lot of hours on the hunt for the best items to showcase at GWI and can't wait to be surrounded by this year's stacked lineup!
Green With Indie Craft Show
(Website | Facebook | RSVP | Hashtag: #GWI)
When: March 8th, 10a-5p
Where: Grant's Gym @ Webster University
175 Edgar Road
Webster Groves, MO 63119
Admission: Free!