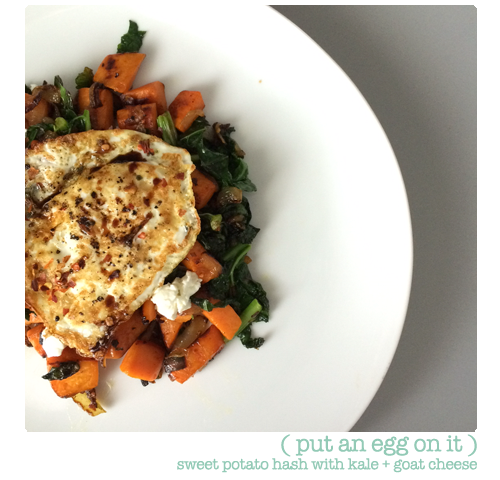 It's time to get back into the recipe game! At the beginning of the month I moved into my new apartment near
Downtown St. Louis
and since my building has an electric stove, I've been going through an adjustment period. Electric stoves are fickle things that go from cold to burning in a matter of seconds, so I've been trying not to scorch all my food. In addition to adapting to electric, I've also made the switch from non-stick cookware to stainless. So... needless to say, I've been cooking with a bit of trial an error. But I've figured it out! And let me tell you, cooking with stainless is a joy, once you know how manage that crusty goodness that builds up on the bottom.
Today I'm introducing a new feature: Put an Egg On It, where I'll explore recipes that are made that much better by adding an egg. Because let's face it, most things are better with a fried, poached, scrambled, or any other kind of egg. Eggs are often overlooked, but that punch of protein adds to many dishes across many cultures.
For the inaugural recipe, I bring you a Sweet Potato Hash, celebrating hearty flavors of the colder months to create a warm breakfast or brunch dish. Prepared with a few simple ingredients from my produce delivery service Green Bean Delivery, this recipe is full of crispy onions, sweet potato, kale and topped with a fried egg. Add a touch of creaminess with a bit of goat cheese, and you've put together the perfect winter dish.
Interested in getting or giving the gift of a bin full of healthy seasonal produce delivered directly to you? info@greenbeanmissouri.com or calling (314) 717-1099 in the St. Louis area.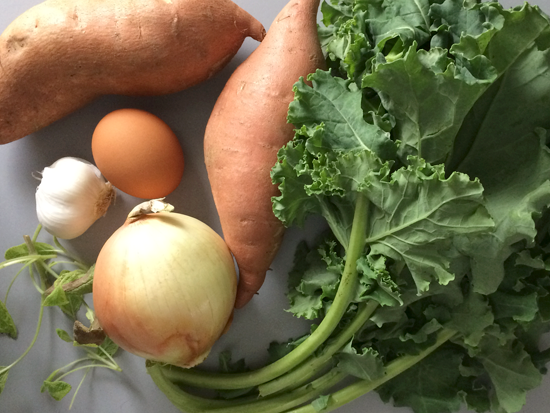 Check the recipe after the jump!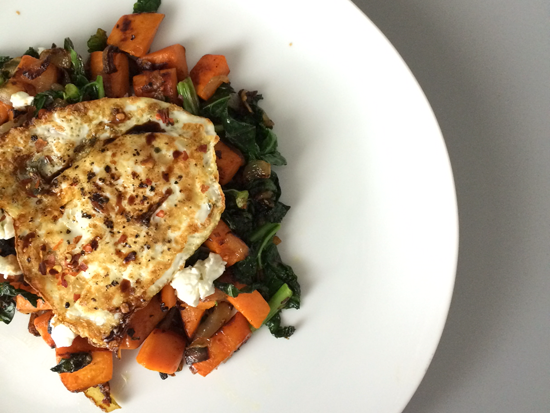 Sweet Potato Hash with Kale + Goat Cheese
Prep Time: 10 minutes; Cook Time: 20 minutes; Yield: 2 Serving
INGREDIENTS
1/2 large white onion, diced
2 cloves garlic, minced
2 large sweet potatoes, diced
4-5 stalks of kale, chopped
3-4 sage leaves, finely chopped
2 tablespoons butter
salt and pepper to taste
2 eggs

METHOD
Pre-heat large skillet over medium heat. While pan is heating, chop onions, garlic and sweet potatoes. Melt butter to coat pan. Saute onions and garlic, about 5 minutes, until onions are translucent. Increase heat to high, add sweet potatoes to skillet to sear, until browned. Reduce heat to cook sweet potatoes through, about 10 minutes. Add kale to warm through and wilt down. Transfer hash to plate, or bowl while frying eggs. Fry eggs to preference and plate over hash. Top with goat cheese.