Over the past year, I've grown to love a little vegetable known as the Brussels sprout. In the past it's always been something that has weirded me out, but thanks to my organic produce delivery service (Green Bean Delivery, which you can read more about here) I had started to try an array of new produce I'd never used before, including the Brussels sprout. A veggie that resembles a mini-cabbage, and is part of the same family, it's a superfood that ranks up there with kale on the "good for you" scale.
There are a million and one ways to prepare Brussels sprouts, and growing up it had always been in a mushy version covered in cheese, but there are so many more ways to prepare this vegetable. My favorite has always been roasting, but today's recipe is a quick salad, prepared warm with cranberries, toasted almonds, and a drizzle of Balsamic vinegar.
Not only does this warm salad make a great alternative to the usual lunch ideas, but with Thanksgiving around the corner, this beautiful and colorful recipe also serves as a wonderful and different side dish, just multiply the recipe by two or three for your guests!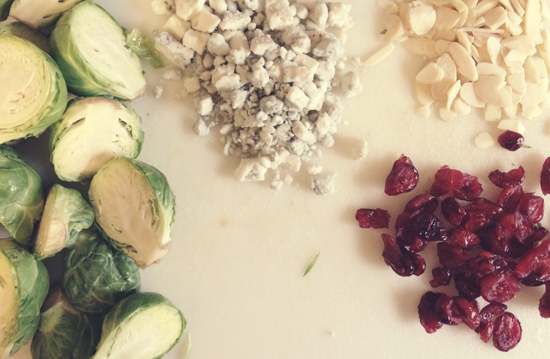 Warmed Brussels Sprout Salad with Cranberries + Toasted Almonds
Prep Time: 5 minutes; Cook Time: 10 minutes; Yield: 1 Serving (or 2 side servings)
INGREDIENTS
10-12 Brussels sprout bulbs
1/2 cup toasted almonds
1/2 cup dried cranberries
1/4 cup Gorgonzola cheese
2 tbsp. extra virgin olive oil
2 tbsp. Balsamic vinegar
salt and pepper to taste

METHOD
Pre-heat large skillet over high heat. Using sliced or chopped almonds, add to dry skillet to toast. Nuts will release their own oil as they cook. Toast almonds until browned, transfer to small bowl. In the same skillet, add olive oil to heat. Cut Brussels sprouts in half and place cut side down in skillet to sear. Make sure skillet is hot to get a quick sear! Cooking should only take 5 minutes. Transfer Brussels sprouts to cutting board to chop. In a large bowl, add warmed Brussels sprouts, toasted almonds, dried cranberries, and Gorgonzola cheese. Add Balsamic vinegar and combine with salad fixings. Enjoy!