St. Louis should start preparing itself for the arrival of the Central West End's newest culinary experience, Central Table Food Hall. This past Tuesday, I got a sneak preview of the new space, opening up at 23 S. Euclid Ave (between Forest Park Parkway and Laclede), as part of their reservation only preview dinners, and I cannot wait until Central Table shows us their full menu and is open to the public for breakfast, lunch, and dinner service (May 6).
Central Table Food Hall is unlike anything else in St. Louis dining right now. The concept is to bring together a wide variety of food under one roof, offering different stations specializing in fresh, seasonal farm-to-table fare. Central Table will offer a coffee and bakery bar, a deli and sushi bar, grill, and table service. The idea is to become a local meeting area at any time of day for the St. Louis area.
Tuesday's dinner gave me my first look inside of the expansive space. Measuring in at around 10,000sq ft, this sleekly modern restaurant and market offers various dining experiences: counter seating at one of the five culinary stations, large farmhouse style tables for gathering, and a handful of two and four top options. Each table is set ready to sample from their artfully prepared wine list, however I opted for the local craft beer on draft. My first round choice? Urban Chestnut's STL IPA. Other offerings from the St. Louis area include Schlafly and Civil Life, but all draft beer is craft (Bell's, Goose Island, Dechutes) and they also offer a longer list of bottled selections.
The purpose of the week of preview dinners Central Table Food Hall was hosting was both to train their staff (our service was absolutely excellent...thanks Jordan!) and to offer customers a chance to really sample their selection by offering menu items (except for drinks) at half price. Needless to say, we sampled away.
Here's the rundown on the dishes sampled that night and what we thought of them:
Starters:
- Beef Tartare: This small plate was beautifully presented and served with a dashi gelé and roasted asparagus
- Spicy Tuna Roll: Each roll comes with six pieces stuffed with incredibly fresh tuna. The chopsticks were the best part, made of stainless metal. A sure upgrade from the wooden kind.
- Bruschetta: I made the mistake of not asking what kind of bread this was, and looking back on it, that was a HUGE mistake. The bread came with sitting down at the table and it was a nice touch. It had a hint of sourdough flavor and was perfectly tangy and seasoned. The small tomato topping with a hint of cheese was the sealing touch of greatness.

Entrees:
- NY Strip Steak: Served with wild mushrooms and potatoes. We had trouble deciding between the Strip and the Skirt Steak on the menu, so took the suggestion from our server. In retrospect, we should have went with the Skirt Steak. The steak was cooked perfectly and the flavor was there, however the cut was slightly too fatty for my taste (It's not my favorite cut of meat, what can I say?)
- Salmon: Served with shaved radish, cucumber and potato. On the other hand, the salmon was fantastic. All too often restaurants will cook a piece of fish until it's dry and tough. Central Table had the preparation on point. Seared on one side, the fish could be flaked apart with a fork. The accompanying vegetables were a nice, seasonal touch on this light dish.

Dessert:
- Almond Cake: Sponge cake with a cucumber gelé, yogurt pudding and a hint of cilantro. I only had one way to describe it: "It tastes like Spring." All of those fresh seasonal flavors were there and none overpowering the other. There was just the slightest hint of cilantro, which gave the dessert that herb-y feel.
- Chocolate Cake: Chocolate cake (though, it wasn't really a "cake") with chocolate ganache, served with orange sorbet and dehydrated kalamata olives. Before I go any further, I just want to say one thing: dehydrated. candied. kalamata. olives. What?! The flavor was truly unexpected and worth asking for a handful of them, but I'll get to that. The cake was almost fudge like, and the chocolate flavor was rich. A wonderful chocolate dessert served with a small, single scoop of orange sorbet to balance out the richness with a more bright flavor. The star of this dessert, though, were those olives. It's hard to describe the flavor, but it starts like a malted ball, then your taste buds get the saltiness, and THEN you get the olive taste. It's truly an amazing thing.

Overall,
Central Table Food Hall
is living up to the expectation that is being set for them, at least in terms of the sit down dining experience. The food is priced well with the quality of food being served. The "Large Plates" range from $18-$25, the small plates were also well priced (our tartare was $9 on the menu). They also offer salume and cheese tastings ($12 for one cheese + one meat, or other options), which (unfortunately) we skipped out on. I was longing to try it, but I'll save something for my next trip, along with a pizza, when the spot opens to the public on May 1st for breakfast and dinner, and May 6th for breakfast, lunch, and dinner.
Central Table Food Hall (Opening May 6)
23 S. Euclid Ave. @ Forest Park Pkwy (Central West End)
St. Louis, MO 63108
Facebook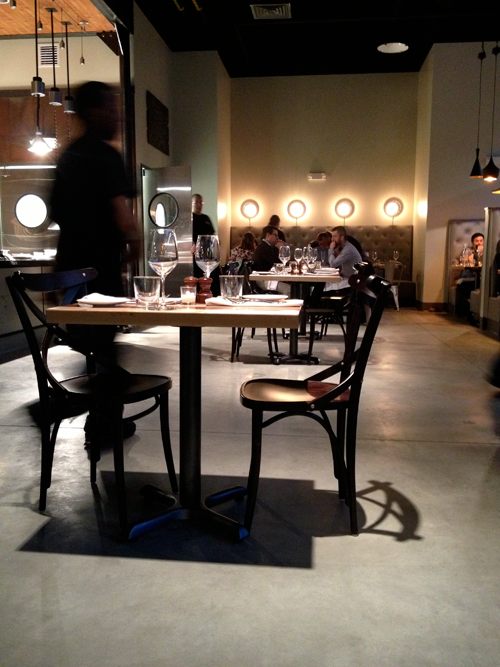 Read more for additional photos:
Seasonal menu and Urban Chestnut STL IPA on draft.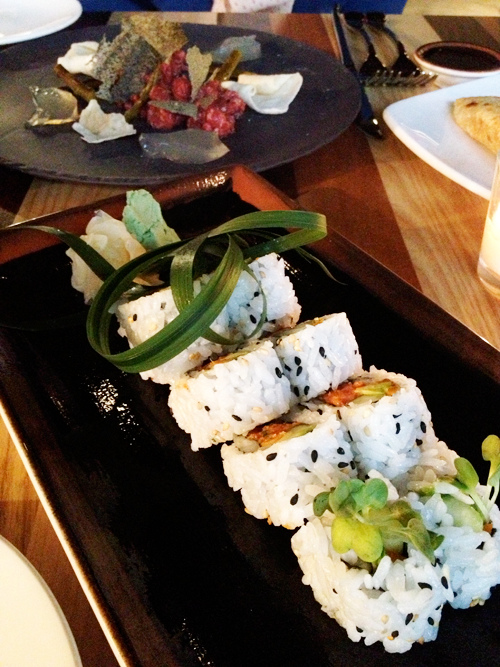 Spicy tuna roll and beef tartare.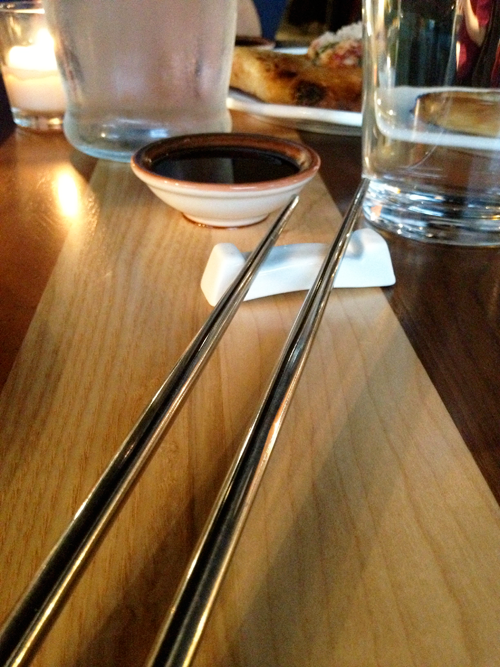 A sleek touch, stainless chop sticks.

NY Strip Steak with mushrooms and fingerling potatoes.

Salmon with radish, cucumber, and potato.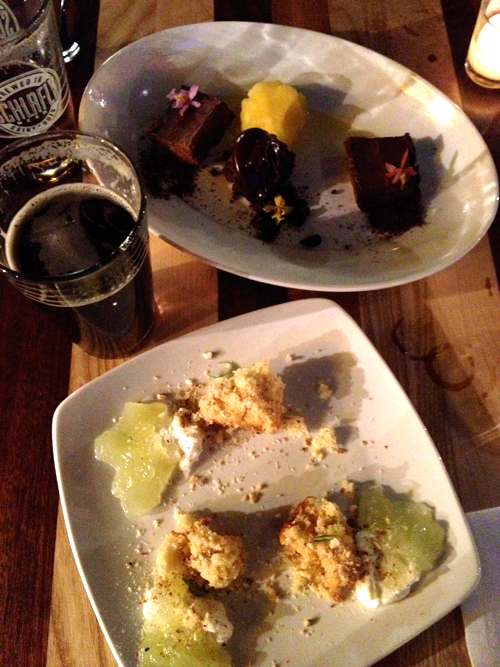 Dessert at Central Table Food Hall.

Almond cake with cucumber gelé and yogurt pudding.