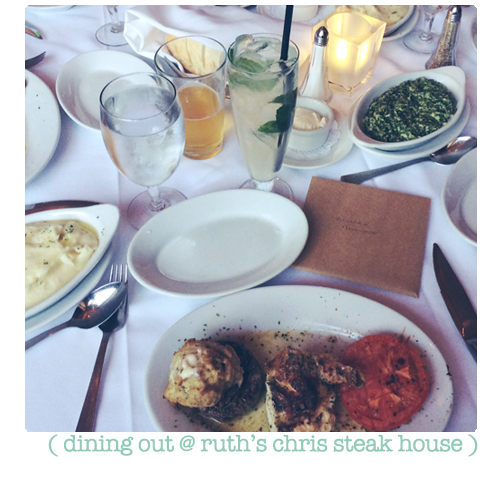 Ruth's Chris Steak House Downtown is having a birthday and they're celebrating in a big way: with new menu features! Last week, I had the honor of sitting down to dinner with some of St. Louis' most influential and best bloggers (still trying to figure out how I got included!), courtesy of ALIVE Magazine, to sample both their new Sizzle, Swizzle, Swirl happy hour menu and prix-fixe dinner. The night was full of refreshing cocktails, an overload of food to try, and great company; which is what dining out should always be about, right?
Ruth's Chris Steak House Downtown is located inside the Hyatt, in Downtown St. Louis. Aside from its' close proximity to the iconic Arch, Ruth's Chris is the ideal location for grabbing a bite and drinks after work or before any Downtown event and their new Sizzle, Swizzle, Swirl menu is affordable, and more importantly: tasty.
The night began in the R-Bar, getting to try a smorgasbord of bites from the menu, including a couple of my favorites: the seared ahi tuna, crab sliders served with zucchini fries (!!), and salmon chips, among a bounty of others. The cocktail menu was expansive and deliciously made and a must try is the ginger mojito. I'll let you in on something about me...I love ginger. Ginger in dishes, ginger ale, ginger beer, all of it. So this cocktail was incredibly refreshing for the summer months. Their happy hour menu offers an array of handcrafted cocktails satisfying every spirit, from whiskey, to vodka, to tequila. In addition to cocktails, they also offer a selection of craft beer on draft, this time including one from Bell's Brewery, and a couple of St. Louis favorites.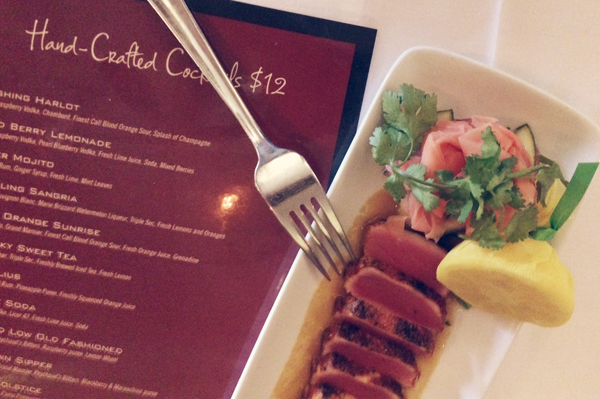 Seared Ahi Tuna off the new Sizzle, Swizzle, Swirl menu.
Highlighting the evening, though, was dinner. With Ruth's Chris new prix-fixe menu, you and your dining companions can enjoy a signature Ruth's Chris dinner for a fraction of what you'd think a Ruth's Chris dinner would cost. The new menu offers a salad, a trio of entrees, sides and dessert duo for only $39.95 a person. Our table at last week's dinner had some of the best dinner companions, including ALIVE staffer and best friend, Lindsay Pattan of Heartland Underdog, Rachel Brandt of the Daily Wild, Kristen Linares from 13th & Washington (she does my hair!), Julia Ann from Oh, Julia Ann, and so many more!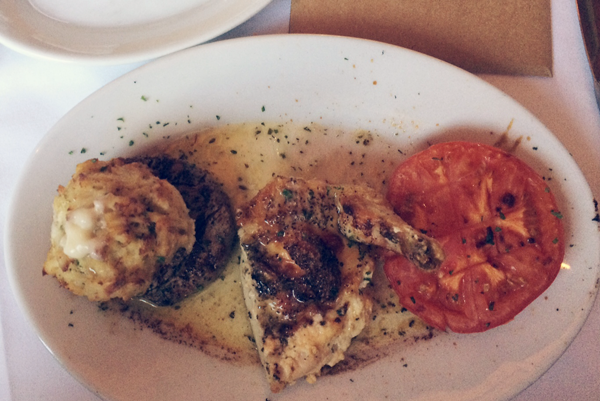 Trio of entrees from Ruth's Chris prix-fixe menu (from left): 4oz filet topped with crab cake, stuffed chicken, broiled tomato.
Click through for pictures of night, notes on the dinner, and how YOU can win dinner for four at Ruth's Chris Downtown, thanks to ALIVE Magazine!