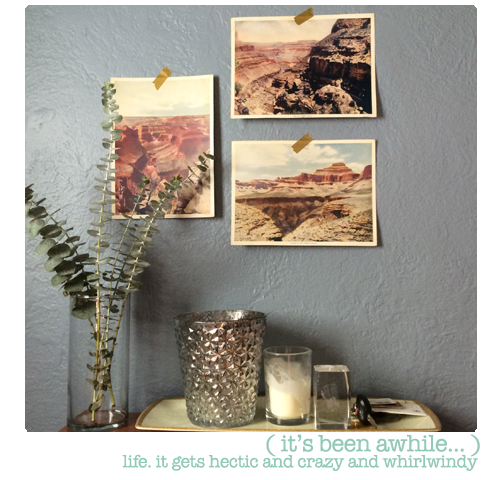 And it truly has. For whatever reason, I'm noticing that during the summer months, I take an unintended hiatus from the blogging world, only to return once the weather starts to change for the colder. While the summer months are the ones where there are so many things going on and winter gets a little ho hum as I buckle down for a long St. Louis winter in front of my Netflix queue, this is the time of year that I find myself more inspired.
My last post was nearly four months ago, and it hasn't been that there hasn't been anything going on, because there most definitely has been! As I'm sure you all follow my Instagram feed, you'll know that I've been keeping plenty busy.
Let's recap quickly:
1) Summer roadtrip to the Great Smoky Mountains. (I'll post pictures soon, since I nearly finished a post on it...)
2) Lots and lots of baseball during the summer, including a short roadtrip to Chicago to visit Wrigley.
3) An enormous amount of pizza, including getting a pizza stone of my own!
4) Generally getting out and exploring/loving St. Louis
5) BOUGHT A HOUSE!
The last one is the big one and the primary reason why I've been absent from the blogging game. Remember last year when I started this process with searching and I nearly did it. Nearly committed to owning a home. But things fell through and it wasn't the right time. Well, this time, I.. or rather, we did it. The past couple of months have definitely been an adventure and a HUGE learning experience.
In upcoming posts you can be sure that I'll be going much more in depth with projects we've been doing and just a little more about the house itself. But rest assured, I love it and I love the freedom to be able to do whatever we'd like to it. It's definitely going to help put the ( home. ) into ( eat. see. home. )
Aside from being up to my ears in house-related things, I've also been keeping busy with my little vintage baby, Juxtapose Vintage. This past summer has definitely been a big time for my mom and I with growing the business and we're only looking forward to bigger and better things to come! It's been a huge event year for us, and the summer was filled with fun times, including the Vintage Bliss Market, Handmade Happy Hour - Summer in the City, the Treehouse End of Summer Party, South Grand Fall Festival, the Vintage Peddler Market, CWE Flea, and lastly, but not leastly, Craftoberfest. It's been a whirlwind and we're happy to be part of the amazing small business community of St. Louis. It's been great to be able to talk to so many people and expand our brand even more!
Like I said, I've been keeping busy on all fronts, but I'm looking forward to catching up on blogging and getting back to the grind! With the holidays knocking on the door (and us hosting our first Christmas... eep!), there will be lots to share!